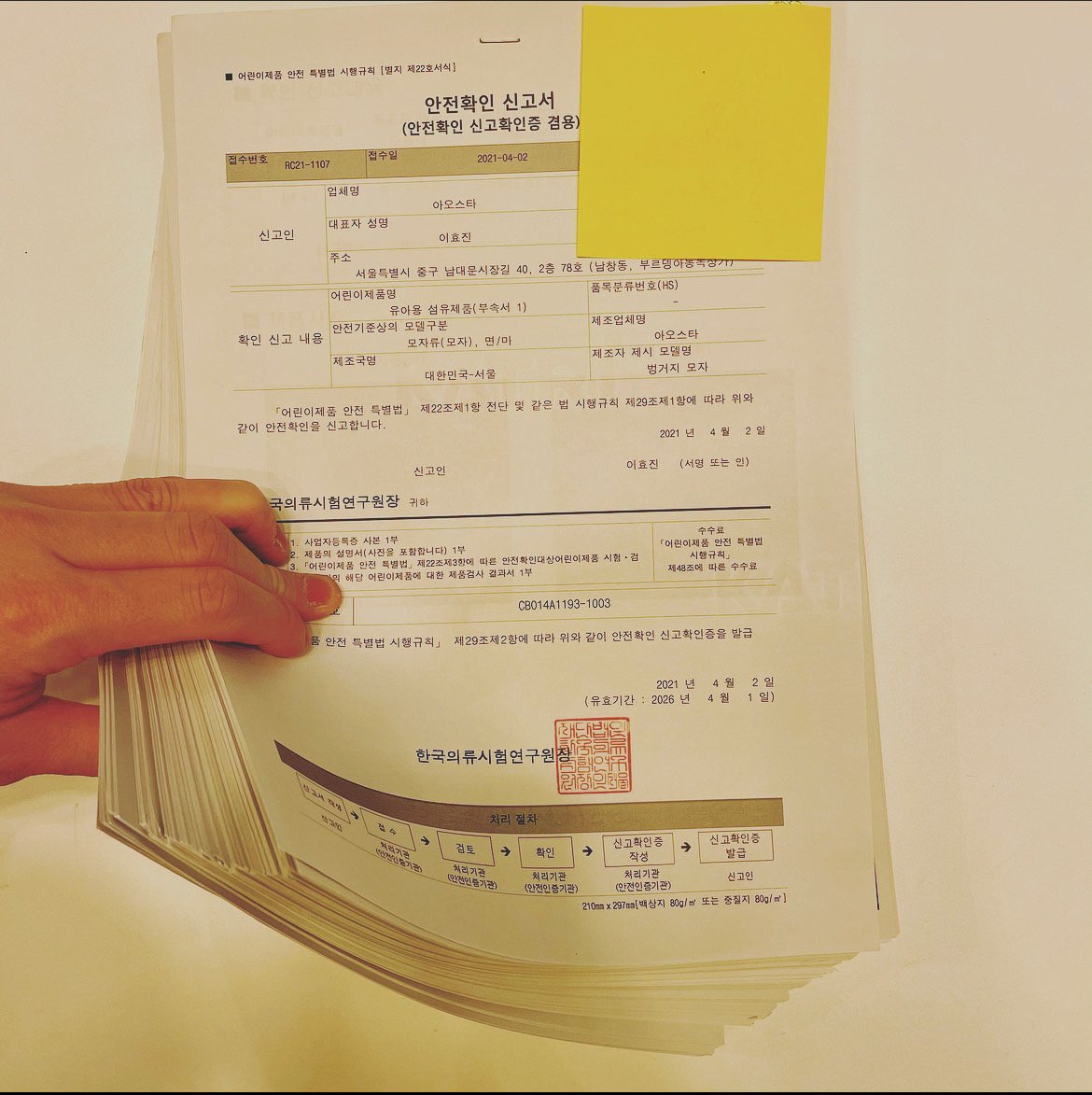 Perhaps you have seen the KC mark on the tags of our baby and children clothing.
In this article we give a high-level explanation of what the KC mark stands for.
What is KC Certification?
Consumer products which might be harmful to the health or safety of the consumer or could pose a pollution risk to the environment need to get a KC Mark certification.
Without the KC mark such products may not be sold in South Korea. The KC mark is given to the products which meet the relevant Korean Safety Standards.
What products need the KC Mark?
The KC Certificate is used for 730 different products.
Here is the example list of product types that are required to meet KC standards in South Korea:
Household Appliances (e.g. fridge, dish washer)
Audio & Video Devices
Scales
Fire Extinguishers
Glasses Frames
Fans
Tents
Motorcycle helmets
High-visibility clothing
Automotive spare parts
KC Mark certification for children's products
Several types of products for children are required to be KC certified. This is to prevent accidents caused by the products and to ensure the safety of children. Testing and inspecting these types of children products is required in accordance with the Special Children's Product Safety Act from 2015.
The following children's products are required to get the KC Mark certification:
Toys
Textiles for children and babies
Children's chairs
School supplies
Children's bicycles
Certain products, for which safety is a major design feature (such as child restraint systems), require a KC Safety Certification, which includes a factory inspection.
Textile products for infants (36 months or younger) require a KC Safety Confirmation, which includes product tests.
Textiles for children on the other hand only need a KC Supplier Confirmation, which is self-regulatory.
Regulated items and requirements for textile products
| Items | For infants | For children | Note |
| --- | --- | --- | --- |
| Formaldehyde (mg/kg) | ≤20 | ≤75 | |
| Organotin Compound – Dibutyltin (DBT) (mg/kg) | ≤1.0 | – | Applied only when it has coating or printing. |
| Organotin Compound – Tributyltin (TBT) (mg/kg) | ≤0.5 | ≤1.0 | Applied only when it has coating or printing. |
| Arylamine (mg/kg) | ≤30 | ≤30 | Applicable only for dyed goods. |
| Phthalates contents (%) | ≤0.1 in total | ≤0.1 in total | Applicable when material like coating agents or rubber or plastic was used. |
| Flame Retardants | do not use | do not use | TDBPP, Penta BDE, Octa BDE |
| Dimethyl Fumarate (mg/kg) | ≤0.1 | ≤0.1 | Applicable only on the leather part. |
| Lead (mg/kg) | ≤90 | ≤90 | ≤300 mg/kg for metals. Apply only to the part with components like coatings, printings, buttons |
| Allergic Dyes | do not use | do not use | |
| pH | 4.0 ~ 7.5 | 4.0 ~ 7.5 | |
| Nickel Release (µg/cm2/week) | ≤0.5 | ≤0.5 | |
| Cords & Drawstrings | Conform EN14682 | Conform EN14682 | |
| Small Parts for Decoration | Not to be detached | – | |
| | | | |
Different requirements apply to leather products.
How does it compare to the CE Mark?
The KC Mark is similar to the European CE Mark.
The European Union made the Conformitè Europëenne (CE) Mark to control the goods sold within the European Economic Area (EEA). The meaning of CE Mark is that a manufacturer conforms to with the EU's New Approach Directives regarding product safety, health or impact on the environment.
A long list of products needs are required to get the CE Mark, including some children's products.
Unlike with the KC mark, textile products for baby and children do not have to be CE marked according to the textile legislation. Only certain textile products might require CE marking if they fall under the Regulation for Personal Protective Equipment and the Toy Safety Directive.